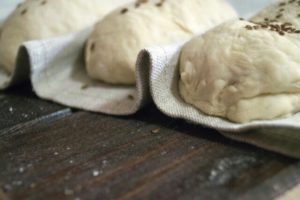 Our company offers custom-made professional bakers couches for bakeries. We produce them using only natural high-quality flax. The price is lower for wholesale orders. You can find the feedbacks on our products on Amazon. We sell and deliver our goods around the world. Bakeries in Australia, USA, Italy are among our wholesale customers.
100% untreated, unbleached flax fabric is made in Belarus. NO chemical treatment (international OEKO-TEX® Standart), approved for bedding and kids textile.
We understand that every bakery has its own individual standards. So, our baking accessories are also available in custom sizes. We'll be happy to help you to make the right choice.
All sizes are available – please request the price list in our contact form.
Linen bakers couches for proofing dough are made from high quality 100% flax fabric. Couches are designed for proofing baguettes, rolls, ciabatta. We assure you that our product corresponds to all demands, and you will bake the most delicious bread.